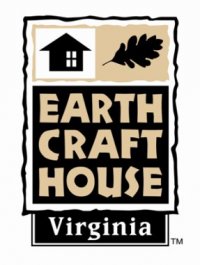 As a graduate of the State of Virginia's Energy Efficiency program from the University of Virginia, Chip builds all homes to meet the State of Virginia's EarthCraft energy efficiency program.
Why Build Green?
(from EarthCraftofVirginia.com)
A home or building with EarthCraft certification is one that has been designed to suit the unique climate conditions of the Southeast.  EarthCraft projects are built for energy, water and resource efficiency, durability and enhanced indoor air quality – all key factors in achieving a healthier, more sustainable lifestyle.
EarthCraft projects have a number of benefits, including:
Lower utility costs
Enhanced indoor air quality
Increased comfort
Reduced home maintenance requirements
Higher resale value
Your Savings
If rising energy costs concern you, take a closer look at EarthCraft.  You'll find that EarthCraft saves you money on your energy bills from day one.  That's because EarthCraft projects reflect a comprehensive approach to building.  They are sealed to prevent hot and cold air leaks and outfitted with energy-efficient lighting and appliances offering year-round comfort and savings.